Associates of Glens Falls acquires Loomis & LaPann, Inc.
Media Contact:
Elizabeth Giblin
518-793-3444
lgiblin@aogf.com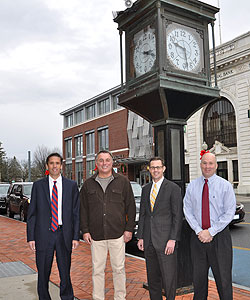 (December 7, 2015 - Glens Falls, NY) Leading independent insurance agency Associates of Glens Falls announces the recent acquisition of Loomis & LaPann Inc. As part of Associates' continued expansion, the Loomis & LaPann acquisition will enhance business growth by expanding into a niche market place and strengthening Associates' existing sports and recreation business units.

Loomis & LaPann Inc. traces its origins back to 1852. They have continually focused on specialty insurance products across all four North American time zones as well as across industries as varied as fish canneries and lumbering in the early years, to their current specialty, amateur sports management.

Loomis & LaPann will continue to develop insurance programs specifically designed for State High School Athletic/Activities Associations, State High School Coaches Associations, United States Olympic Committee National Governing Bodies and amateur sports groups/associations. Currently Loomis & LaPann insures over 100,000 high school coaches. The Loomis and LaPann name will stay intact, and Sports Senior Vice President Greg Joly and his team have joined the insurance specialists at the Associates of Glens Falls office in downtown Glens Falls, NY.
Mr. Joly has been in the insurance industry for over twenty years. He began his insurance career with The Lawrence Group and then transitioned to Loomis & LaPann Inc. Mr. Joly is a retired former professional ice hockey player who was drafted number one overall in the 1974 NHL Amateur Draft by the Washington Capitals. He played 365 NHL games over the course of his nine-year career for Washington and the Detroit Red Wings. With his background in professional sports and insurance, Mr. Joly will continue to work with various insurance underwriters to provide the most comprehensive insurance products available.
Associates' President Chuck Gohn said this of their recent acquisition, "We are excited to have Greg and his team with us. Loomis & LaPann is a perfect fit. We also recognize that the opportunity to purchase a 163 year old company doesn't come along too often. With that opportunity comes the responsibility of moving the company forward. We're excited to be part of Loomis & LaPann's future."
Mr. Joly said the following regarding the Loomis & LaPann acquisition "It is a perfect fit, and we welcome the opportunity this acquisition will provide."
About Associates of Glens Falls (AOGF): Founded in 1967, Associates of Glens Falls Insurance specializes in all types of personal and commercial insurance. The AOGF agents service clients locally and across the United States, and operate in-house, concierge claims and loss control departments. The AOGF website and mobile site offer free, instant, online insurance quotes and offer an online defensive driving course link saving consumers money on auto insurance.

Associates of Glens Falls, Inc. and Loomis & LaPann are licensed in all 50 states.

To learn about the various insurance coverages AOGF and Loomis & LaPann offer, visit them online at www.aogf.com and www.loomislapann.com respectively.
Save on personal auto and homeowners insurance!

Customer Links