Meet Your Associate - Becky DuPrey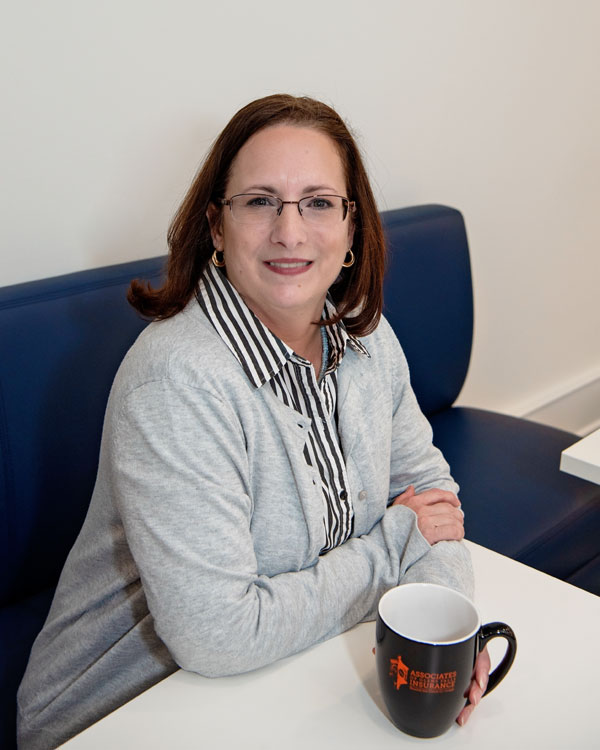 Join us in celebrating the remarkable journey of Becky DuPrey, who has been an invaluable member of the AOGF family for an incredible 30 years in January 2024!
Becky lives in Queensbury alongside her husband, daughter, as well as their two dogs and cat. Becky and her husband dated for a remarkable 21 years before finally tying the knot, determined to surpass the legendary couple Kurt Russell and Goldie Hawn.
As a high school student, Becky participated in a program for short-hand transcription at the BOCES (now Southern Adirondack Educational Center). During her senior year, she had the opportunity to gain real-world experience by working in a business that matched her skills. Initially placed in a local insurance agency as a secretary, she soon realized it wasn't her true calling. However, fate had other plans for her.
Luckily, a manager recognized her potential and offered her a position in his department, forever changing the course of her career. It was a pivotal moment that ignited a passion for the insurance industry and set her on a path that would define her professional journey.
Intriguingly, Becky had the option to work at AOGF early on but decided to explore other opportunities. Fate once again intervened, and she ultimately found her way to our family eight years later, accepting the coveted Claim Manager position upon the retirement of Bob Homkey. Since then, Becky has been an invaluable asset to AOGF, contributing her expertise and dedication to our clients and the growth of our company.
As we look forward to January 2024, Becky will be proudly celebrating her 30th anniversary with AOGF. Throughout her tenure, she has consistently exemplified the work ethic and commitment that defines our company's core values.
Becky believes in the importance of gaining real-life work experience, which she began during her high school years. Instead of merely completing coursework, she sought opportunities to immerse herself in practical business environments. This early exposure laid the foundation for her career and instilled in her a genuine passion for helping others—an attribute that continues to define her work today.
For those who know Becky, it comes as no surprise that she describes herself as an "insurance nerd." Her dedication and enthusiasm for the industry are unmatched, and her thirst for knowledge is insatiable. She finds joy in assisting clients, going above and beyond to ensure their needs are met—even outside regular office hours. Becky firmly believes in the importance of being available and responsive, embodying the values that AOGF holds dear. When asking Becky "what is her favorite part about being a part of the team at AOGF and where you are in your career now" she responded with, "I enjoy working for a local employer that values you as an individual and appreciates the hard work and dedication that is put forth. I appreciate the accolades but all of us at AOGF work very hard to reach a common goal...being there for the businesses, families and individuals that place their trust in us. I would be remiss if I didn't mention that my parents instilled a tenacious work ethic in myself and my siblings when we were growing up."
Throughout her career, Becky has never shied away from self-improvement. As a self-proclaimed perfectionist, she has faced her share of challenges, but she has learned valuable lessons along the way. Her mentor and dear friend, Philip Birmingham, provided her with wise advice that she holds close to her heart: "You will always strive for perfection, but you can't always be perfect." These words have guided Becky and remind her that growth and progress are more important than the unattainable pursuit of perfection.
Becky has consistently pursued opportunities for professional development, resulting in an impressive array of accomplishments. She has completed several courses, three of which have earned her national recognition:
Associate in Claims (AIC) - 1993: A four-part course focused on insurance coverages and claim adjustment.
Chartered Property & Casualty Underwriter (CPCU) - 2002: A ten-part program encompassing everything from basic insurance principles to economics.
Senior Claim Law Associate (SCLA) - 2023: A five-part course that delves into insurance law and coverages.
These achievements highlight Becky's commitment to continuous learning and her dedication to honing her expertise. By staying up to date with the latest industry developments and regulations, she ensures that our clients receive the highest level of service and guidance.
As we celebrate Becky's remarkable 30-year journey with AOGF, let us extend our heartfelt appreciation for her unwavering dedication, passion, and expertise. Her contributions have undoubtedly shaped our company's success and continue to inspire us all.
Please join us in congratulating Becky on this incredible milestone and in expressing our gratitude for her invaluable presence within the AOGF family.