AOGF In the Community
Associates of Glens Falls Insurance has been embedded in the community since its founding in 1967. We have a strong history ensuring the needs of not-for-profits are met. Numerous AOGF employees take part in community and charity activities. In addition to monetary support, employees are encouraged to support organizations near and dear to their hearts. Here are some of the many ways we give back throughout the year!
Spring Community Work Day at Double H Ranch
Our Associates teamed up with Philadelphia Insurance Companies for the spring Community Work Day at Double H Ranch. It was a sunny Saturday that consisted of grounds clean up and lots of fun for a great cause!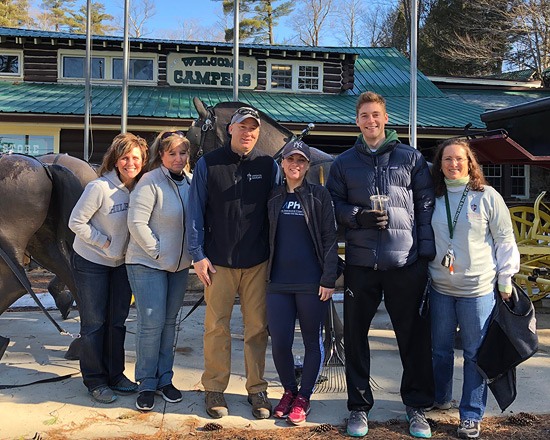 (Photo Caption) L-R: Pam, Carrie, Jason, Stephanie, Stephane & Becky
---
Employee Spotlight: April 2018
Karen Starkweather
Accounting Manager, AIAF
President of Wings Falls Quilters Guild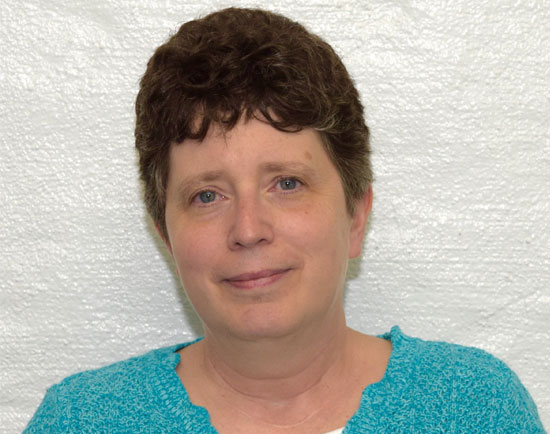 Karen has been a member of The Wings Falls Quilters Guild for 15 years and the group has been active for 40 years. It is a registered and local not-for-profit organization.
The Guild has donated quilts to local children's charities and families in crisis. In December 2017, they donated over 40 stuffed animals, with matching quilts, to the Moreau Community Center. They recently completed over 100 pillowcases- some will go to a local organization's summer camp for siblings separated in the foster care system, the others will go to another children's group.The Guild also makes quilts for the kids at Double H Hole in the Woods' Comfort Camp every fall. The camp is for kids who have experienced the death of a family member. One of the Guild's members also makes the gorgeous raffle quilt that is donated to the South High Marathon Dance every year.
The Wings Falls Quilters Guild's signature event is its biennial quilt show, which is scheduled for May 4th and 5th, 2019. When Karen is not exercising her creative muscle, she can be found taking care of the finances at our agency. She joined AOGF in 1986 and says her favorite part about working with us is the people- many of whom she has worked with for 30+ years!
For more information about The Wings Falls Quilters Guild visit www.wingsfallsquilters.org and you can find them on Facebook!
---
Heart Month - February 2018
The staff at Associates of Glens Falls and Loomis & LaPann, Inc. fundraised for Heart Month in February.
$168 will be donated directly to the American Heart Association (AHA) and $190 will be donated to one of our Personal Lines Account Manager's granddaughter's AHA Jump Rope For Heart/Hoops For Heart Fund.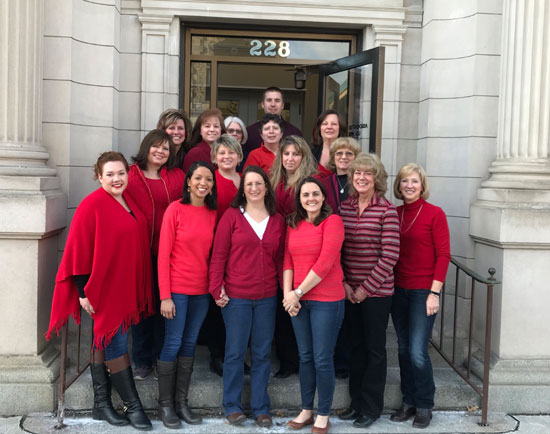 Our team wore red on Friday, February 2nd for National Wear Red Day to raise awareness for heart health.
---
$950 Donated to Open Door Mission
02/20/2018
Associates of Glens Falls and Loomis & LaPann, in conjunction with the Thunder, have donated $950 to the Open Door Mission in Glens Falls.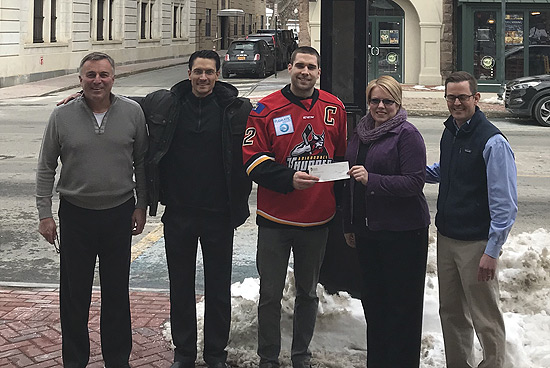 L-R: Greg Joly (Sports Senior VP, Loomis & LaPann, Inc.), Brad Tapper (Adirondack Thunder Coach), Mike Bergin (Adirondack Thunder Player), Kim Cook (President & CEO, The Open Door Mission) and Chuck Gohn (President, AOGF and Loomis & LaPann, Inc.)
Save on personal auto and homeowners insurance!

Customer Links